Stay Tuned this Spring for our 10 year anniversary "Open House" celebration!
New Kids MMA Program!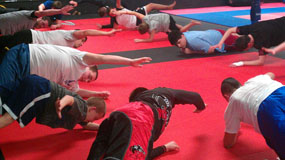 We are happy to announce our new Kids MMA program has begun to form! Geared towards fun and fitness, the class is taught by some of our highly-qualified coaches. Classes will introduce both boys and girls ages 5 and up to a mixture of boxing, wrestling and jiu jitsu, all geared to safely introducing children to the sport. Classes are held every Tuesday and Thursday at 5pm, and Saturday from 11am to 12pm. Call us today at 215-479-9662 to set up a FREE TRIAL CLASS!
Schedule Updated!
We have updated our schedule for 2018, see the updated days and times here.
Congratulations!
Congratulations to Shawn Stefanelli on his Amateur MMA debut at XCC 30 in Philadelphia, winning the fight by split decision! Stay tuned for Shawn's next event in Spring 2018!
About
Grindhouse MMA & Fitness, since late 2007, has its roots as a "MMA fight club" based in Warminster, PA. After a few months of training fighters in the "Centrifuge" at the former Naval Air Development Center, Grindhouse MMA & Fitness moved to B&R Family Fitness Center in Feasterville. We enjoyed a mutually beneficial and long-standing relationship with the owners of B&R, but in 2015, Grindhouse MMA & Fitness moved into its new home at The Sportsplex, also in Feasterville.