We've moved!!!
On March 6, 2017, Grindhouse MMA & Fitness movied back to our original home inside AFC Fitness in Feasterville!! With the move, we now have new equipment, expanded schedules and classes, and a few other awesome surprises in store. We are excited and hope to see you all soon! Contact us at 215-479-9662 for more info or message us on Facebook or email!
New Kids MMA Program!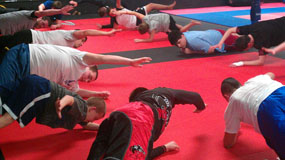 We are happy to announce that we are starting a new kids MMA program. Geared towards fun and fitness, the class will be taught by one of our coaches who is a state certified elementary school phys. ed. teacher. Classes will introduce kids to a mixture of boxing, wrestling and jiu jitsu, all geared towards kids.. Classes are open to kids ages 5 and up and will be held Tuesday and Thursday at 5pm. Call us today at 215-479-9662 to setup a FREE TRIAL CLASS!
Spring Special 2016!
Grindhouse MMA & Fitness/Team Grindhouse has some AWESOME specials to welcome Spring for all NEW and RETURNING members through May 31. New members get a TWO WEEK FREE TRIAL and 25% off their first month membership fee. Bring a friend and both get 50% off their first month's membership. We offer great classes, lots of fun and a great group of coaches and members to train with. Happy New Year from Grindhouse MMA & Fitness!!
Congratulations!
Congratulations to Grindhouse coaches Matt Netterville and James Booth on their BJJ Belt Promotions!!
About
Grindhouse MMA & Fitness, since early 2007, has its roots as a "MMA fight club" based in Warminster, PA. After a few months of training fighters in the "Centrifuge" at the former Naval Air Development Center, Grindhouse MMA & Fitness moved to B&R Family Fitness Center in Feasterville. We enjoyed a mutually beneficial and long-standing relationship with the owners of B&R, but in 2015, Grindhouse MMA & Fitness moved into its new home at The Sportsplex, also in Feasterville.